Brake Fail Military Vehicles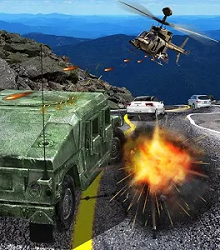 This is unbelievable.Honestly its my first time to see this type of app.Driving without a brake,and this is what lured me to download the app.
Just want to know how it feels when a car brake fails.I played this game,its really awesome with real reaction as if you are trully driving that car.
I started as a beginer from level 1,now im in level 6…its really fun….you cant get boured….othe cars on the road and you must not hit,once you hit,point is reduced,i love this game because it really positioned my mind as a driver,maintaining the traffic rules to gain lot points and still strugling to capture crystal to make points.
This is like a rat watching a trap to take food and escape.
Everything about the game is awesome…..from the game,music,vehicle control,all is perfect.
This is an app you will all like.